We've just started the kids yoga camps today and the day was such a success. The children each had a special little character of their own that added to the mix of a wonderful and creative group. Thanks to the help of Helena Hennigan and Jarlath Reidy, we got to have a picnic in the sun, do some silent walking meditation (after a lot of running around),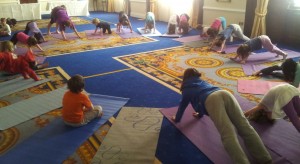 and a seated meditation on the beautiful Flora and Fauna in the wonderful grounds of the Ardilaun Hotel. I was so impressed with the children for being able to be still and quiet and listen to their guided meditations.
Bringing the mats into the shape of a sun we did salutations to the sun, followed by lots of yoga poses, turning into animals and acting them out, like the snake, lion, dog, frog, and even became candles and hot air balloons.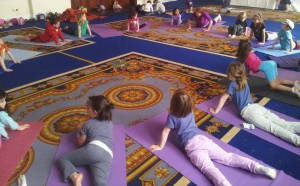 The only flaw in the day was not getting enough time to hang out with each child on their own for a while. I fell in love with somany children today, but it was busy and so I didn't get to give the attention I could have given with a smaller class. However, I have a whole week to get to know them better and have more fun!